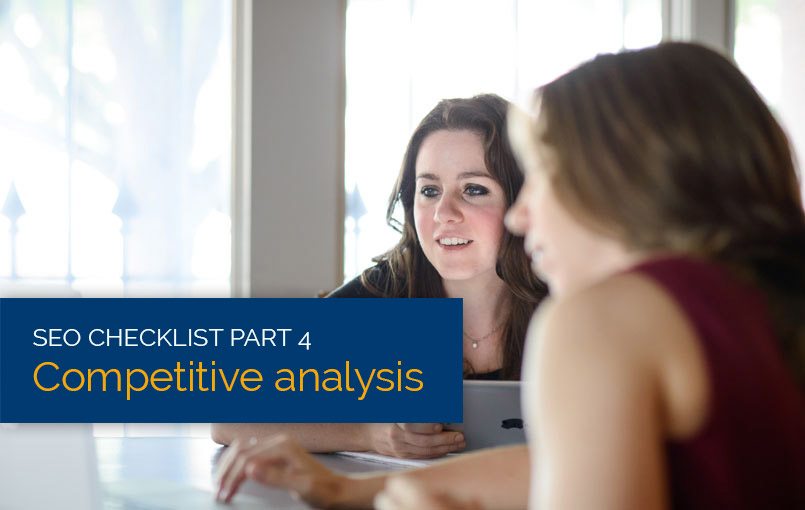 26 Jan

SEO checklist part 4: Competitive analysis

How your web pages stack up against others is the difference between getting new leads and not. That's why we created this SEO competitor analysis checklist with the old adage, "keep your friends close and your enemies closer," in mind.
Why SEO competitor analysis is critical
A 2013 study by Chitika, an online advertising network, quantified the value of beating your SEO competitors by breaking down the average traffic percentages by Google search engine results page (SERP) rankings. Below is a useful graph that illustrates the importance of beating your competitors in search engine results.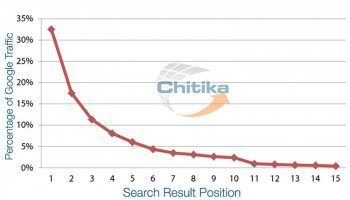 The data shows that on average, 33 percent of all organic Google traffic goes to the first position in the SERP and 91.5% of Google traffic is limited to the first page.
For example, if an advertising agency in Charlotte, NC is currently ranking fifth for the keyword "digital marketing agencies in Charlotte," they could potentially double their organic traffic and client leads by beating two local competitors.
After keyword research, which we explained in part three of this SEO checklist series, competitive analysis is the next most important phase of any SEO campaign.
1. How to identify SEO competitors
Even if you think you already know your competitors, the initial phase of verifying your search engine competition is important. Many times your SEO competitors aren't just companies offering similar products or services, but sites like online directories and other web pages that compete for the same keywords.
Tools to help identify competitors:
SEMrush's "competitors in organic search" tool
Both of these tools let you search by domain or keyword. The most efficient way to compile a list of your top 50 competitors would be to search by your own domain first and then search your top 20 target keywords. It's also important to record data like search volume, competition level and other valuable information that will help you prioritize competitors and keywords later.
2. Competitive SERP analysis
Once you've got a list of competitors, the next step is to see how well they are ranking for your target keywords. For this exercise, you'll need the competitor list you just created and a list of target keywords.
Tools to help rank tracking:
With Authority Labs you have the option to group competitors and tag keywords. This is a really neat feature that gives you the option to tag keywords by category, such as "branded" or "non-branded." This helps you monitor your performance over time for different types of keywords.
For example, a marketing agency may be ranking well for any query that includes the word "digital," but poorly for any word that includes the word "creative." By tagging each keyword with attributes you can track performance over time against competitors and prioritize more efficiently.

3. Link opportunities – If you can't beat 'em, join 'em
One key aspect of competitive analysis is determining how and why other pages are outranking yours. Now that you've identified which keywords you want to improve rankings for, look at which competitors are ranking well for those target keywords.
Using Moz's Open Site Explorer tool you can look at factors like domain age, the number of unique backlinks to a page, and the "Domain Authority" of the website or page you want to outrank.
This is also where you can discover link opportunities that the competition has found. If you find local news articles mentioning a competitor every time they release a new product, then that's a good source for the next time your organization has a newsworthy update.

4. SEO metrics to compare yourself to the competition:
Domain Authority
Page Authority
Recently discovered links
Unique root domains (backlinks)
Total links (backlinks)
Social metrics (Facebook shares, Google +1s)
Anchor text (text used to hyperlink to a page)
Ratio of normal "follow" links to "no follow" links
MozRank
MozTrust
Ratio of internal to external links
If a competitor is ranking number one on Google for a certain keyword, record the metrics above for that web page and compare them to your own. Pay close attention to metrics that have large deviations from each other. These could be your greatest weaknesses.
I always pay closest attention to the unique root domains and total links metrics. With this comparison you can begin to set goals for how many links, what type of links and level of authority for those links you'll need to beat your competitors.
5. Paid search competition
This is a series on SEO, but I'd be remiss not to mention how paid search results can affect your appearance in organic results.

In the image above, the two top paid ads will certainly affect how many clicks the organic results get. That's why we recommend setting up a simple paid search campaign to bid on a handful of keywords that are your very top priority.
6. Automated SEO competitor analysis tracking
The SEO landscape is constantly changing. Google frequently updates their algorithm and your competitors are attempting to improve their results, just like you. So it's a necessity to have an automated SEO tracking system in place. Moz and SEMrush are great options to monitor keywords and competitor activity so you can focus on what's most important – converting website visitors into customers!